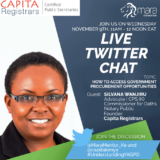 Join us for a twitter chat on November 9, 2016 on AGPO Compliance and opportunities hosted by @maramentor_ke and @capitakenya.
In this twitter chat we will discuss the requirements for registration with AGPO which are;
Registration of a company- you will require a business registration/incorporation certificate. 70% of the shareholding must be held by youth, women or person with disability.
Companies must be compliant with KRA and Registrar of Companies i.e. must have a tax compliance certificate and have a valid CR12.
Business profile.
PIN Certificate and National Identification (PIN & ID/Passport)
Apply for the AGPO Certificate online and attach all the relevant documentation.
What you can do
Like our twitter page https://twitter.com/CapitaKenya
Like Mara Mentor twitter page https://twitter.com/MaraMentor_KE
Participate in the discussion on Wednesday, November 9, 2016 using the hashtag #understandingYAGPO